In this article, we will explore the concept of agile transformation in more detail and discuss its key principles and benefits. So, if you're wondering "What is agile transformation?" and how it can help your organization, read on.
What is Agile Transformation?
Agile transformation is a popular buzzword in the business world today. But what does it really mean? In simple terms, agile transformation refers to the process of transitioning an organization's approach to work from a traditional, linear model to a more flexible and iterative approach. This approach emphasizes collaboration, adaptability, and continuous improvement, and it is commonly used in software development and project management.
Identifying Goals
For those embarking on an Agile transformation, it's important to identify goals and objectives early in the journey. Doing so will help to ensure a successful transition while providing a framework for continued success. It's critical that organizations assess their own capabilities before developing any objectives or milestones, then map out achievable steps to reach them.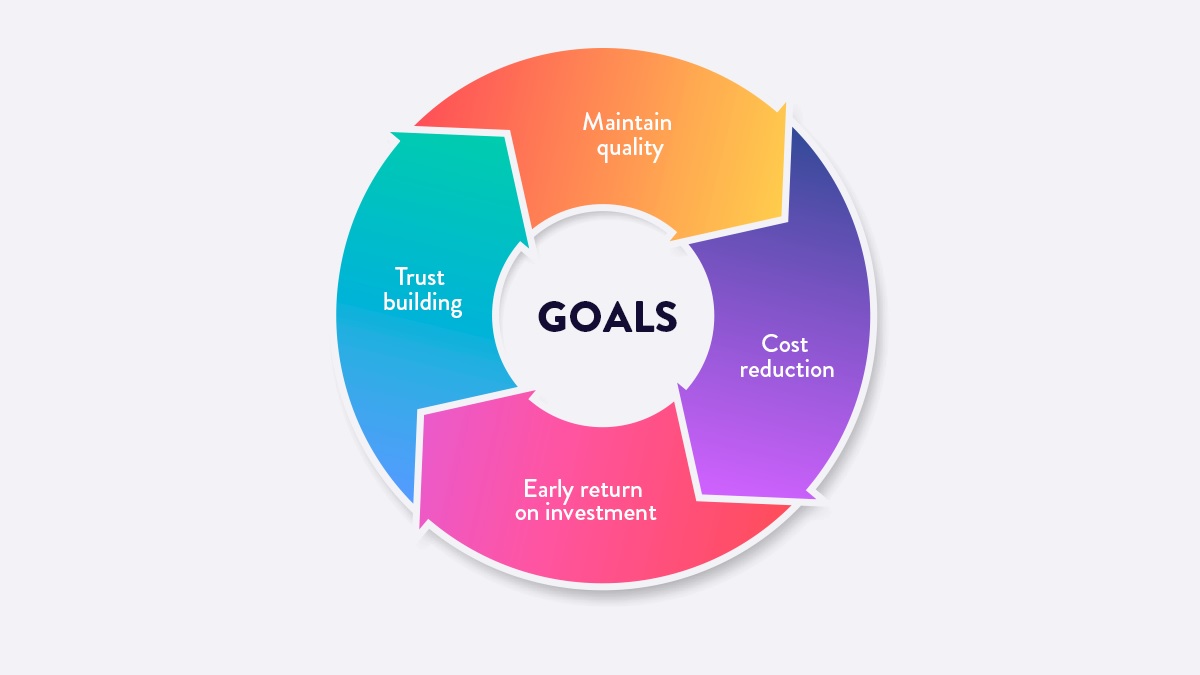 In addition to assessing internal abilities, it's also essential to consider external factors when setting goals. Factors such as client expectations, resource availability, and cost constraints should be taken into account before setting any firm deadlines or targets.
A thorough understanding of all aspects of the Agile transformation is key in order for organizations to set realistic and attainable goals that are tailored specifically to their situation. With careful planning and ongoing communication throughout the journey, organizations can achieve successful outcomes with their agile transformation initiatives.
Understanding Processes
Understanding processes can be key to success and growth in any organization. Recently, many have turned to agile transformation as a way to redefine their processes and help them reach their goals in a more efficient manner. Agile transformation is a journey that requires understanding, effort, and dedication from all stakeholders.
Those on the agile journey must first understand the basics of what it means to be "agile". This starts by recognizing that an agile process is focused on the high-speed delivery of value through iterative cycles with continuous improvement throughout.
Through this approach, companies are able to deliver quality products quickly, often ahead of schedule. Furthermore, it allows for flexibility when dealing with changing customer needs or market conditions.
Read Also: Agile Transformation – 5 Phases For The Better Procedure
Creating a Roadmap
Businesses today are seeking to become more agile in order to stay competitive in the ever-evolving digital landscape. To do so, they must embark on an agile transformation journey. This journey requires an effective roadmap that outlines a clear path toward achieving agility.
Developing this roadmap requires organizations to take into account the entire organizational structure and project management processes, from the top down. It should also include key stakeholders who will play a role in transforming the organization's operations and culture into one of agility.
Additionally, it is important to identify potential challenges and risks associated with embracing an agile approach as well as methods for mitigating those risks.
Training & Education
Having the right training and education is often crucial to the success of an agile transformation. It is important to equip employees with the knowledge they need to make sure that organizations are able to reach their desired agile journey goals.
The goal of any training and education initiative should be to empower employees with the right skills, tools, and techniques needed for an effective agile transformation. This means providing them with a comprehensive overview of what it takes to become agile while also giving them hands-on experience in developing successful agile processes.
From workshops, boot camps, and certifications, there are a variety of options available for organizations looking to train their workforce on becoming more efficient in their operations.
To ensure that employees have access to all the necessary resources for a successful transition into an agile environment, having comprehensive training programs is essential.
Benefits of Agile Transformation
Agile transformation is an important process that organizations are increasingly using to improve their performance, productivity, and customer satisfaction. The agile journey is a means of navigating through the complexities of organizational change while still achieving business objectives.
By integrating processes such as Scrum and Kanban into their operations, organizations can leverage the power of Agile transformation to increase efficiency and effectiveness in their workflows.
Organizations that successfully complete an Agile transformation stand to benefit from improved operational transparency, increased customer satisfaction, better resource utilization, and reduced costs. Agile methodologies provide for quicker time-to-market by breaking down tasks into discrete units with measurable progress points.
This also allows for greater flexibility when responding to changing market conditions or customer needs. As teams become more collaborative during the agile journey, they become more adept at recognizing potential problems earlier on in the process and formulating solutions quickly and effectively.
Measuring & Monitoring Results
Are you interested in leveraging agile transformation? The journey of agile transformation can be long and complex, but measuring and monitoring results are essential for success.
The first step to measure and monitor results is to set clear, achievable goals for your team. This can include defining metrics that align with your organization's objectives and developing an efficient reporting system to track progress. In addition, it's important to regularly review the data in order to identify areas where improvements can be made.
By implementing a process of continuous measurement and monitoring of results, organizations are able to keep their agile journey on track while minimizing risks associated with change. Additionally, organizations have the ability to respond quickly when conditions shift or unexpected problems arise. This helps ensure that organizations remain competitive in a rapidly changing landscape and achieve their desired outcomes.
Overcoming Challenges
Agile transformation is a journey that requires determination and resilience to overcome the challenges faced along the way. Companies that are undergoing an agile transformation can expect to encounter various obstacles such as resistance to change, lack of knowledge or resources, and organizational structures which do not support agility. Despite these challenges, it is possible for companies to succeed in their agile journey with proper management and leadership.
Organizations must first identify the areas that need improvement in order to realize the full potential of their agile transformation. This includes assessing existing processes and tools, finding solutions for any gaps identified, and ensuring stakeholders understand how new methods will benefit them.
Additionally, organizations should develop clear guidelines regarding roles, responsibilities, goals, and timelines that everyone involved in the process can follow. Lastly, leaders should provide ongoing support throughout the process by offering regular feedback on progress made toward objectives.
Conclusion
In conclusion, an agile transformation is a powerful tool for businesses to increase efficiency and productivity. By allowing teams to work together more effectively, agile practices can help organizations become more adaptive and responsive in their processes. It also provides an opportunity for companies to understand customer needs on a deeper level, enabling them to offer better products and services.
Moreover, by creating a culture of continual learning and improvement, agile transformation can help employees become more engaged with their work.