In today's digital age, WhatsApp has become an integral part of our lives, allowing us to connect with friends and family across the globe at the tap of a screen. Whether it's sharing joyful moments, staying updated on daily activities, or even discussing the most mundane details, WhatsApp keeps us connected like never before.
However, when the time comes to switch from an Android device to an iPhone, there arises a pressing need for WhatsApp data transfer. In this simple guide, we will show you how to seamlessly transfer WhatsApp from Android to iPhone, ensuring that your cherished chat history, contacts, and media make the journey effortlessly. So, if you're ready to embark on this transition, let's dive in!
Why Do You Need to Transfer WhatsApp from Android to iPhone?
Are you facing the perplexing challenge of switching from an Android device to an iPhone? The iToolab WatsGo – WhatsApp Transfer, Backup & Restore is here to simplify your transition. This remarkable tool addresses the paramount need for transferring WhatsApp from Android to iPhone.
In this guide, we'll explore the reasons behind this necessity, dissecting the dilemma posed by the platform shift, the value of preserving your chat history, and the importance of maintaining your contacts and media.
The Platform Shift Dilemma
Switching from Android to iPhone can be a thrilling experience, but it also presents a unique challenge when it comes to WhatsApp. These two platforms have distinct operating systems that aren't directly compatible with data transfer.
Therefore, transferring your WhatsApp chats and media can be tricky without the right tools. This is where iToolab WatsGo comes to the rescue, simplifying the process and ensuring a smooth transition.
Preserving Valuable Chat History
Your WhatsApp chats are like a treasure trove of memories, containing heartfelt conversations, photos, and videos shared over time.
Losing this precious chat history during a platform switch can be heart-wrenching. However, with iToolab WatsGo, you can ensure that your cherished conversations remain intact and ready to be accessed on your new iPhone.
Maintaining Contacts and Media
WhatsApp isn't just about text messages; it's also a hub for multimedia content and contact information. Transferring your contacts and media, such as photos and videos, is crucial to maintaining your digital connections.
iToolab WatsGo makes sure that all these vital components seamlessly make the transition, so you don't miss a beat when you switch to your iPhone.
How to Use It
Navigating the process of how to restore WhatsApp backup from Google Drive to iPhone can be a breeze with the right guidance and tools at your fingertips.
In this comprehensive guide, we will break down the process into simple steps and subheadings, making it as straightforward as possible for you to transfer your WhatsApp data seamlessly from an Android device to an iPhone.
A. Preparing Your Android Device
Before embarking on the WhatsApp data transfer journey, it's crucial to ensure that your Android device is ready for the transition. This involves two key steps:
Backing Up Your WhatsApp Data
To begin, initiate a backup of your WhatsApp data on your Android device. This step is pivotal as it ensures that your chat history, contacts, and media files are securely saved, and ready to be transferred to your new iPhone.
Installing WhatsApp on Your iPhone
Next, you'll need to install WhatsApp on your iPhone. Make sure you have the app ready to go on your new device before initiating the transfer process.
B. The WhatsApp Transfer Process
Now that your devices are prepared, let's dive into the core of the transfer process:
Using Official Tools
Official tools, like iToolab WatsGo, simplify the data transfer between Android and iPhone. We'll guide you through the use of these tools to ensure a smooth transition.
Step-by-Step Guide
Step 1. Download & Install, and Launch WatsGo
To begin, download and install the iToolab WatsGo application on your computer. Once it's installed, launch the program to get started on the transfer process.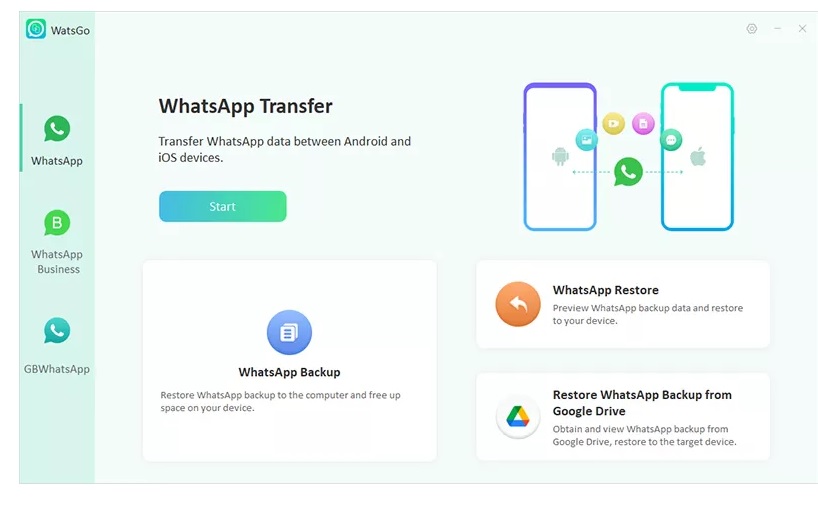 Step 2. Connect Your Android and iPhone
Connect both your Android device and iPhone to your computer using USB cables. iToolab WatsGo will detect and recognize both devices, ensuring a secure connection for data transfer.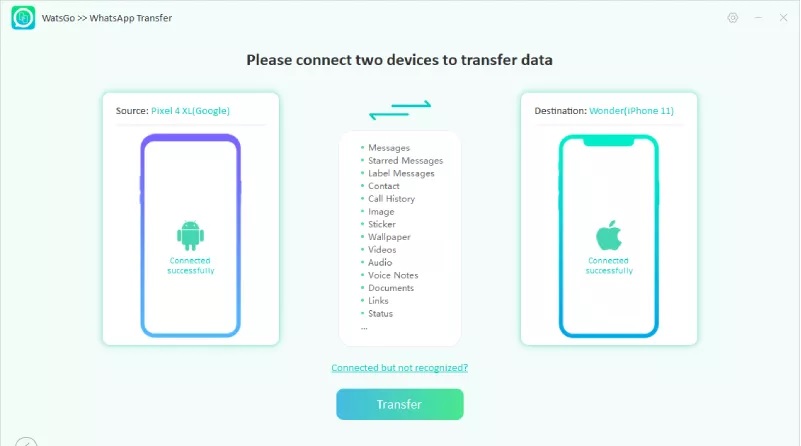 Once the connection is established successfully, the program will issue a reminder that the target device is about to be overwritten. It is advisable to create a backup of the target device's data to prevent any potential data loss.
Next, choose the specific WhatsApp data that you wish to transfer to the target device. This is an excellent opportunity to customize your selection, ensuring that you retain the data that matters most to you. Please note that text messages are automatically selected and will be transferred by default.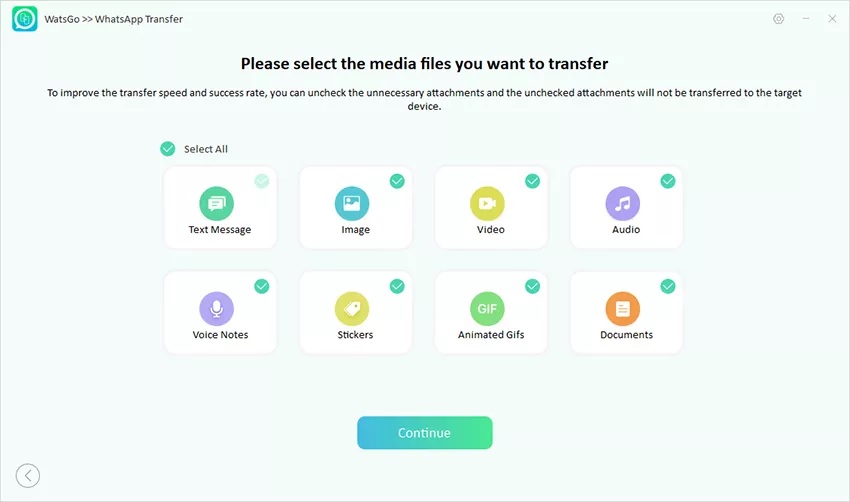 Step 3. Enable End-to-End Encrypted WhatsApp Backup and Verify with Password
To maintain the security and integrity of your WhatsApp data, enable end-to-end encryption and verify your WhatsApp backup with a password. This step ensures that your data remains private and protected during the transfer.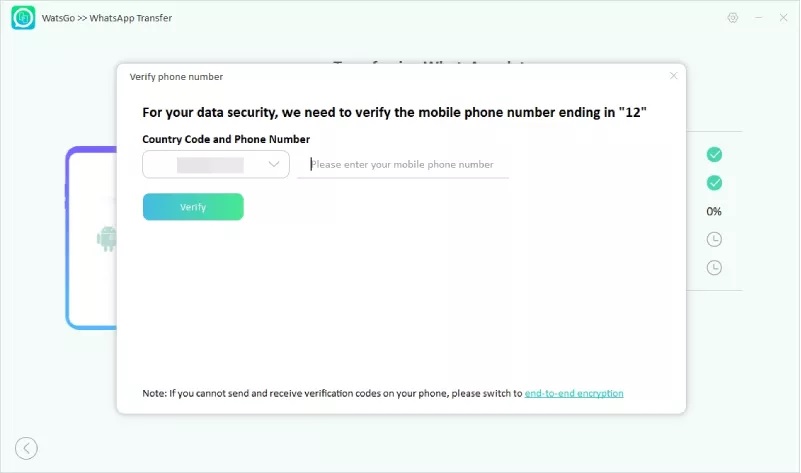 Step 4. Generate WhatsApp Backup That Can Be Restored to the iPhone
iToolab WatsGo will then generate a WhatsApp backup that is compatible with your iPhone. This backup includes your chat history, contacts, and media files, ensuring a comprehensive transfer of your WhatsApp data.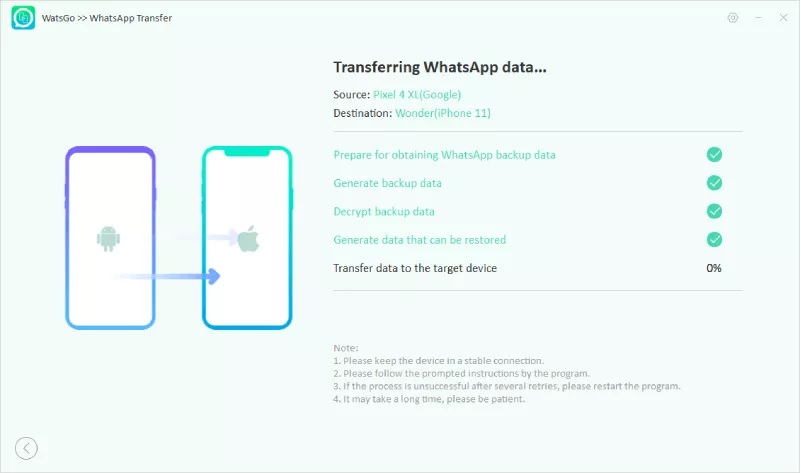 Step 5. WhatsApp Transferred Successfully
Once the backup is complete, iToolab WatsGo will prompt you to transfer the WhatsApp data to your iPhone. Confirm the transfer, and in no time, your WhatsApp/WhatsApp Business messages will be successfully transferred to your new iPhone, ready for you to continue your conversations.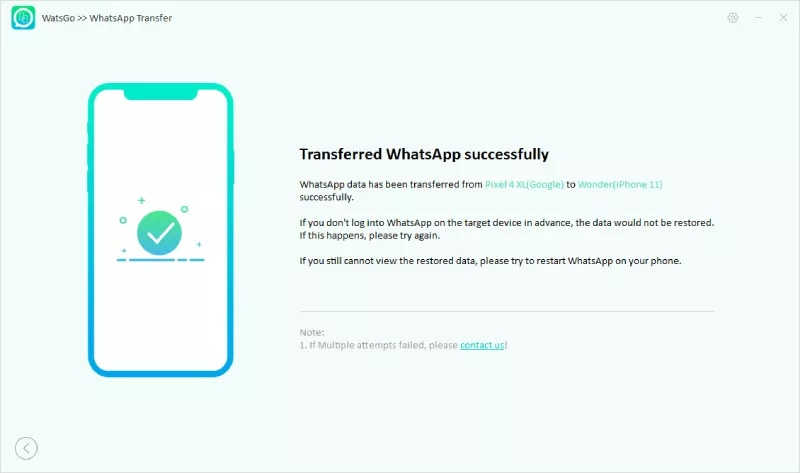 With these five easy steps, you can confidently make the transition from Android to iPhone, bringing your WhatsApp or WhatsApp Business messages with you. Say goodbye to the worries of losing important chats or media files during the switch, and enjoy a seamless WhatsApp experience on your new device.
C. Verifying Your Data on iPhone
Once the transfer is complete, it's essential to verify that all your WhatsApp data has been successfully moved to your iPhone. This includes:
Contacts
Ensure that your contact list is complete and up to date on your iPhone, mirroring what you had on your Android device.
Chats and Media
Check your chat history and media files to make sure everything is intact and accessible on your new iPhone, preserving your valuable conversations and memories.
Compare It to Other Methods
When it comes to the pivotal task of how to restore WhatsApp backup from Google Drive to iPhone, there's more than one way to accomplish it. In this section, we'll embark on a comparative journey, examining various methods available for WhatsApp data transfer from Android to iPhone.
Each method has its own set of advantages and limitations, making it essential to choose the one that best suits your needs. Let's delve into the options and weigh the pros and cons to ensure you make an informed decision.
Method 1: Manual Data Transfer
Transferring WhatsApp data manually involves extensive steps, from exporting chat history on your Android device to importing it on your iPhone.
While this method doesn't require third-party tools, it can be time-consuming and complex, making it less than ideal for those looking for a hassle-free solution. Additionally, manual transfer may not guarantee the preservation of all media files and chat history.
Method 2: Third-Party Apps
Using third-party applications, like iToolab WatsGo, presents a more streamlined approach to WhatsApp data transfer. These tools often provide user-friendly interfaces and step-by-step guides, reducing the risk of data loss or corruption during the transfer process.
However, choosing a reputable and secure application is crucial, as some lesser-known apps may pose privacy and security risks.
Method 3: Cloud Services
Certain cloud services, such as Google Drive, offer the option to back up WhatsApp data. While this method can be convenient, it raises security and privacy concerns, as your data is stored on third-party servers.
Additionally, restoring WhatsApp data from cloud services may not be straightforward, especially when switching between Android and iPhone due to compatibility issues.
Method 4: WhatsApp Web (Not Recommended)
WhatsApp Web, although helpful in accessing chats on a computer, is not a recommended method for transferring WhatsApp data between Android and iPhone.
It requires a constant connection to the Android device, limiting its usability for users looking to switch to an iPhone. Furthermore, it lacks the comprehensive transfer capabilities provided by dedicated transfer tools.
As we explore these methods in detail, you'll gain a clearer understanding of which approach aligns best with your needs and preferences for WhatsApp data transfer to your iPhone.
Conclusion
In conclusion, the process of transferring WhatsApp from Android to iPhone need not be a daunting task. With the right tools and guidance, you can achieve a smooth transition to your new iPhone while ensuring the security and integrity of your cherished data.
Making WhatsApp migration a breeze is not just about convenience; it's about preserving the memories and connections that matter most. We hope this guide has helped simplify this important journey for you. If you have any questions or feedback, please share them in the comments below.
Don't forget to share this invaluable information with your friends and loved ones who might be embarking on a similar journey. Happy WhatsApp migrating!