Enfold is one of the most famous multi-purple WordPress themes and is one of the 5 top sellers on Themeforest. Since I have been using it for many years myself, I would like to introduce you to the Enfold WordPress theme and its possibilities.
I bought my first WordPress theme 7 years ago – Enfold. Since then, of course, a lot of WP templates have been added, but Enfold is still one of the most popular themes. And I also like to use it again and again for a wide variety of projects. Because a website with enfold runs smoothly is easy to use, and is flexible in adaptation.
About Enfold WordPress Theme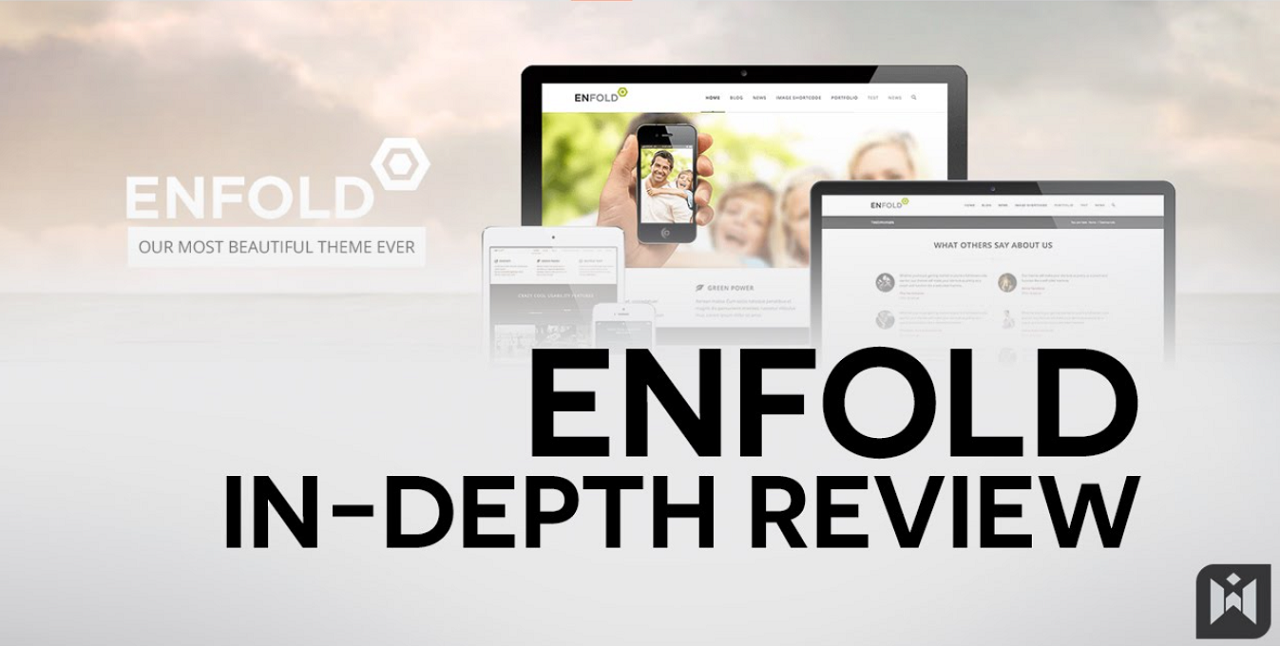 Enfold is one of the most popular Multi-Purpose WordPress Themes, with which almost every web design can be implemented. With over 226 thousand sales and a 5-star rating, it is one of the top 5 premium themes on Themeforest. It is available here at a one-time price of $ 59.
The Enfold Theme was developed in 2013 by the Austrian Christian Budschedl (Kriesi) and has been updated and improved regularly since then. On the provider page, you will find very good enfold theme documentation and also a support forum. Here your questions are answered very quickly.
Enfold WordPress Theme Features, Advantages & Disadvantages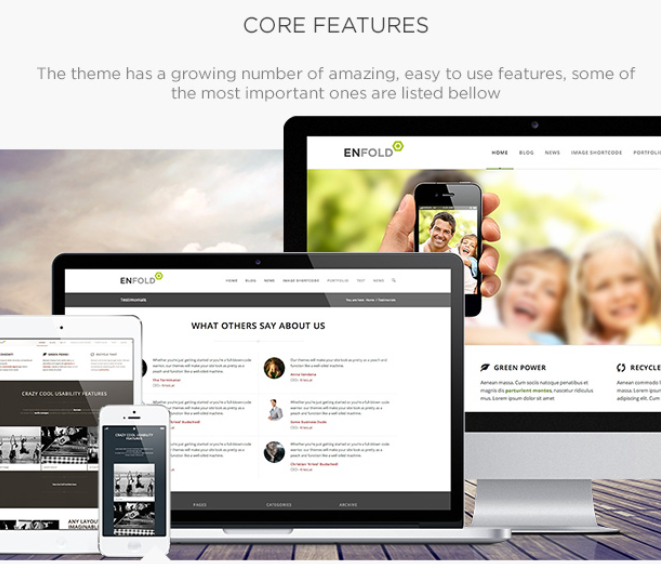 Suitable for all projects: one pager, portfolio, business, shop, blog
Fast loading times
Responsive
Optimized for SEO (Scheme Markup, Opengraph)
WooCommerce Integration, WPML support
Good and faster support
Very good & helpful documentation
Easy to operate for beginners too
Different header options
Portfolio function
The layer slider is included
Simple theme slider
Several blog layouts
Mega menu
Regular updates
Flexible and expandable thanks to the tidied code base
Own page builder (Avia Layout Builder)
Form Builder
Before I introduce you to some selected features, I would of course also like to mention the disadvantages of Enfold.
Design is not quite as trendy
Relatively few theme demos compared to other providers
Layout builder without front-end processing
No complete support from other page builders
No header builder
Theme installation
The installation of enfolds works quickly and easily. First, you download the tumped file in your ThemeForest account. You can then install and activate the theme directly in the dashboard.
So that you get the regular updates, you should still enter your private Envato key in the theme options. This allows the enfold updates to be imported directly into the WordPress backend.
If you want to use a child theme, find the Enfold Child theme for download directly at Kriesi. So you can do your own adjustments, which are also safe before updates.
Enfold demo content
Would you like to go online with your website as quickly as possible? Then you can simply take a suitable enfold WordPress theme demo as a template.
Over 30 demos are currently available:
Enfold default demo
Enfold Demo 2017
Startup Business
One page portfolio
Elegant portfolio
Enfold Shop demo
Flat Business Demo
Minimal portfolio
Photography portfolio
Dark Photography
Minimal photography
One Page Agency
Creative studio
Freelancer
Visual artist
Lifestyle blog
Small blog
Classic restaurant
Coming soon
One page restaurant
Medical
Traveler
Law Hotel
spa
Church
Consulting
Resume
Health Coach
Gym
App
Gaming
DJ
tape
Knowing base
All templates can be found in the theme options under> Demo files. All templates are linked to an online demo so that you can see what awaits you before importing. And with one click, the selected enfold demo is installed on your website.
The Enfold Theme Options
In the theme options, all settings for the display and function of your website are controlled.
Compared to other themes, the surface looks a bit old-fashioned, but beginners can also find their way around very well. Because here you will not be overwhelmed by unmanageable possibilities, as is unfortunately common with many themes.
There are currently 20 sub-items that are best to go through step by step. I briefly introduce you to the most important point here.
General styling
When setting up Enfold, you can first use the point of general styling. In the upper area, you have the opportunity to select a predefined color scheme. Certainly good help for non-designers.
The fine-tuning for the individual areas such as Logo Area, Main Content, Footer, and Fonts is then done directly below.
Extended styling
Would you like to adopt other elements such as HTML tags, headings, or Breadcrumbs in detail? Then you can easily select them under extended styling and set them individually
So you don't necessarily have to insert your own CSS code.
Header Layouts
Unfortunately, Enfold does not offer a header builder as it is now of many other offers. But for most websites, the existing header variants are sufficient.
If you want to adapt the header even further, you can also use a widget area. There are also some instructions with code examples.
In addition, you can generally set whether a Breadcrumb should be displayed. This is a sensible orientation for the user, especially with more extensive websites.
The Avia Layout Builder
Like many other WP themes, the Enfold Theme brings its page builder, the Avia Layout Builder.
This does not look quite as quick as elementor, but works similarly and is also very reliable.
However, there is no visual editor like Divi. This means that you can only edit your pages in the backend and do not see the result directly. If you don't mind, get along very well with the enfold theme; also as a beginner.
If you open a page in the backend, it looks like this:
In the upper area you will find the individual elements of the Avia Layout Builder:
Layout elements (columns, sections, raster line)
Content elements (e.g. text block, heading, symbol boxes, buttons, rider, accordions, portfolio)
Media elements (e.g. pictures, hotspot pictures, videos, slider, galleries, Google Maps)
Custom Elements (here you can save your global elements)
Here you simply choose the desired element and click or move it into the lower layout area using drag & drop. You can easily change the position by moving. This works similarly to other page builders.
You can of course also set each element in detail.
For example, colors and fonts can be determined or their own CSS classes. You can see how the style change affects the element preview.
In addition, you can also use the layout meta box on the right when editing pages.
Here you can individually overwrite the standard settings of the theme. This applies to sidebars, footers, titles, Breadcrumbs, and the header.
Portfolio
Would you like to present your projects or designs as appealing? Then the Enfold WordPress Theme also offers you a portfolio function. Portfolio entries can be managed very well and represented as a showcase via the Custom Post Type.
For the overview pages, you can choose from the following portfolio template:
Masonry 4-Column Special Grid
Masonry 3-column grid
Masonry Portfolio Gallery
Classic 4 Columns Ajax
Classic 4 Columns Fullwidth
Classic 3 Columns Centered
Classic 3 Columns No Header
Classic 2-Column Sidebar
If you want to create a pure portfolio website, a special portfolio theme is probably more suitable. Because these often offer more functions and also peppy designs.
Blog
Of course, you can also set up a blog with the Enfold WordPress Theme.
You will also find various templates for the design of your blog in this area.
Modern blog
Blog Single Author Small
Blog Single Author Big
Blog Multi Author
Blog Fullwidth
Blog Masonry
Blog Classic Grid
You can create individual blog posts with the Avia Layout Builder or use the Gutenberg Editor. With the WordPress editor, writing and formatting posts are faster.
Performance
The developers of Enfold naturally also have an eye on the optimization of loading times. In the Enfold Theme Settings, you will find an extra point "Performance".
With just a few clicks you can accelerate your website in this section. Here are some examples:
Compress and put together CSS & JS files
Optimize font display
Selective charging of theme elements similar to Ocananwp (not required functions such as slider, team
member, deactivate portfolio)
Deactivating JQuery Migrates
Load jQuery in the footer
Lazy loading of pictures
Overall, the performance for a multi-purple theme is very good. In my test with the enfold demo "Restaurant", I was able to measure very good values in Google Page Speed Insights without caching the plugin. You can't complain about the loading time in Pingdom either: 565ms.
If you then combine Enfold with a speed plugin such as WP Rocket, the Google Core Web Vital for Mobile Devices should also be in the green.
Design & flexibility
Compared to other multi-purple themes, the design of Enfold is rather simple and classic. So it is not one of the most innovative and coolest WP themes and does not follow the latest web design trends.
But if you like a modern, beautiful, balanced, and clean design, you will find it here.
Although Enfold is a widespread theme, every website can of course have its design. So you don't necessarily get a "web design off the shelf". Because the theme demos, templates, and elements can all be adapted to your ideas.
As with every WordPress theme, it is up to you what you make of it. And this is exactly where the Enfold Theme supports you. It offers you a modern and solid base but gives you enough freedom with its flexibility.
And with the help of extensive documentation and the support forum, non-code adjustments can also be implemented quite easily. Often some CSS snippets help to design the design individually. If you don't find what you are looking for in the Theme documentary, you get quick help from support.
And the Enfold Forum is also very helpful! I find it particularly useful that it can be searched and read without registration.
But larger adjustments are also possible via child theme. For more advanced users, there are many code snippets, hooks, filters, and examples.
Prices
The Enfold WordPress Theme is available from Themeforest for $ 59 (approx. € 50). This is a one-off payment. So not a subscription model, as is common with some other providers. Free support for 6 months and free updates is also included.
You can only use the theme on a website. So if you want to use it for several projects, another license is due for each website.
Compared to other premium WordPress themes, the price is absolutely within the framework! However, if you want to create a lot of websites, a WordPress theme like Divi is more suitable from the price-performance ratio. Because here there is a lifetime license. This means that you pay a once $ 249,- and can use the theme for any number of projects.
Enfold tips
Would you like to buy the Enfold WordPress theme or have it just installed it? Then I would like to give you a few tips for getting started faster.
Save the page as a template
The Enfold WordPress Theme offers you the opportunity to save individual pages and elements as a template. To do this, simply click on the icon in the layout builder at the top right and save the whole page as a template. If you then put it on a new page, you can load the template and just have to replace the content.
You can also save elements as a template via the small icon.
Compared to other page builders, this function is certainly still expandable! But it accelerates the creation of pages.
Integrate your fonts
Another useful feature is the easy integration of local writings.
To do this, simply click on the "Import/Export" menu and insert the desired font as a ZIP file. Then you can assign them headlines etc.
Icon fonts from Fontello or Flaticon can also be integrated in the same way.
Remove footer credit
Do you mind the copyright link in the Enfold footer? You can remove this with the following shortcode.
[nolink]
You enter this in the Enfold WordPress Theme Options under "Footer" in the Copyright field.
Remove image hover
The image of the hover effect was certainly hip many years ago. I don't like this effect and remove it from most websites.
With 2 clicks you can easily deactivate or adapt the effect in extended styling.
Conclusion
For me, the Enfold WordPress theme is one of the best premium themes for WordPress. It doesn't have as many trendy designs and cool frills to offer as other WP themes. But that is exactly what I find as a big advantage, also in terms of performance.
So far I have only had good experiences with Enfold! Also in terms of interaction with other plugins or importing updates. And even if there were technical problems. these were remedied within a very short time by publishing fixes.
Enfold is a mature, solid basic WordPress theme, with which almost any kind of website can be implemented. A classic WordPress theme. It is flexible, customizable, and especially easy to use for beginners. No wonder it is still one of the most popular WP topics.