As business owners, it's essential to stay up-to-date with the latest and greatest cyber security tips and best practices. Cyber Security is a growing concern as cybercriminals become more sophisticated and creative in their malicious activities. Businesses must have an effective strategy in place to protect their data, networks, systems, and other valuable resources from potential threats.
Implement these essential Cyber Security Tips to enhance business security: Utilize strong passwords, update software regularly, train employees in security protocols, conduct vulnerability scans, enable two-factor authentication, encrypt sensitive data, deploy firewalls and antivirus protection, back up data regularly, and restrict access to sensitive information.
Stay ahead of cyber threats with these essential Cyber Security Tips. In today's ever-evolving landscape, cybercrime is on the rise, making robust IT security vital for businesses. Don't underestimate the risks; even small operations are vulnerable. Protect your data and bolster your cyber defenses to safeguard your business from potential breaches and attacks in 2022 and beyond.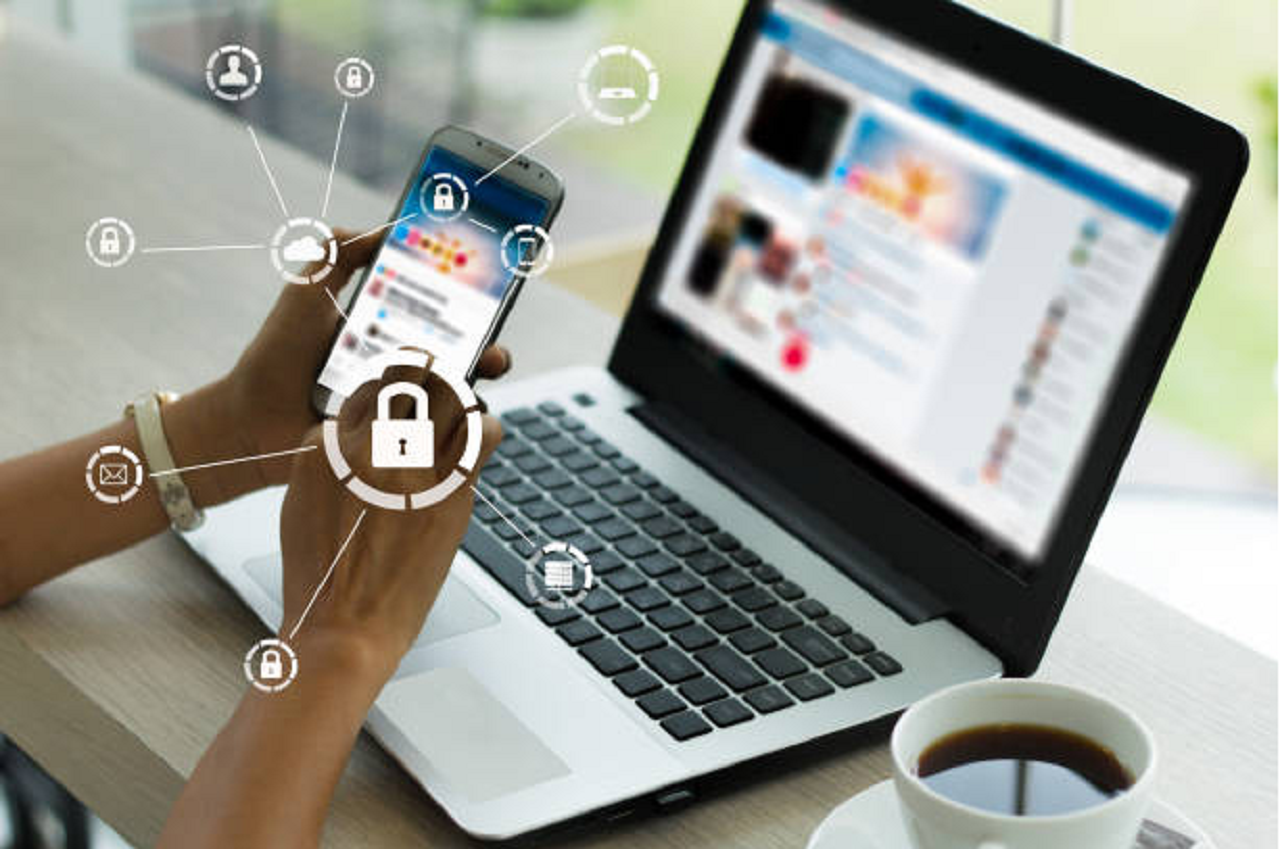 In light of increasing cyber threats, it's crucial to adopt a mindset that every system is vulnerable. Past incidents have proven this point. Embracing a healthy distrust towards IT prompts greater caution and the implementation of necessary safety measures. Stay vigilant with these Cyber Security Tips to protect your systems effectively.
These measures help you to protect yourself against IT attacks by hackers and phishers:
1. Keep your software up to date
Stay one step ahead of cyber threats with these essential Cyber Security Tips. Ensure your virus scanner, such as Windows Defender in Windows 10, is regularly updated. Don't stop there—keep all your software, including the operating system, browsers, and email programs, up to date with automatic updates. This simple practice strengthens your defense against potential vulnerabilities.
If you use a PDF reader from Adobe or Office software, you should only use the latest version, because these programs are particularly at risk. In the article, we explain the danger of outdated office files from Excel and Word.
2. Separate private and business accounts and passwords
An attack on your private accounts and the data it contains is bad enough-an attack on your practical IT can threaten your good reputation and even your economic existence as a doctor.
Enhance your online security with these essential Cyber Security Tips. Maintain strict separation between private and official matters by using different email addresses. Implement unique passwords for each account and service, ideally avoiding password reuse. By following these practices, you fortify your protection against potential cyber threats.
3. Protect your email accounts with safe passwords
Whether it is a targeted attack or a Trojan infection using SPAM emails-mostly the attackers first be targeting the victim's email account. This is the gateway for data theft on the Internet: if an attacker has accessed it first, he can quickly find out which web services and social networks use and whoever communicates with them. He can have the password reset and thus receive access via the "forgot password" function that almost all providers provide.
Therefore, be sure to use robust passwords for your email accounts, especially for practice. A password should
be at least 12 characters long, better than 18
Small and capital letters as well
Special characters and numbers contain
none of the most popular 100 passwords worldwide
It is random, so the string should neither be easy to predict nor conclusions about your person.
Do not use names, birthdays, or the like.
Do not make it too easy either by just replacing some letters of a word with similar-looking numbers, i.e. write "H453" instead of "Hase". Automated attacks have long been prepared for this trick.
It is better to take a whole sentence. Example: "I have my doctor's office in Kastanienallee 14 in Berlin and never go golf on Wednesdays!"
Tip
Have you ever wondered how safe your password is? Test impressively on this website for password security and how long an ordinary computer takes to crack it.

With this password tester, find out what weaknesses your password has. He evaluates it according to various criteria, awards points, and then calculates the degree of his security.
4. Follow security gaps and data leaks
Stay vigilant and protect your patient data with these essential Cyber Security Tips. Regularly check for any vulnerabilities in your practice software and promptly apply patches provided by your PVS provider to address any weaknesses. Stay informed through reputable sources like Heise.de to be aware of potential data leaks and security threats in the medical industry. Prioritize data security and respond proactively to ensure your patients' information remains confidential.
Data that have been tapped by hackers, phishing, or malware can be published on the Internet. This also applies to accessing data to email and other Internet accounts as soon as they have been stolen. This happens at about 1.5 million account data a day.
For added security, consider checking if your identity data has been compromised. Use the free test service provided by the Hasso Plattner Institute, where you can enter your email address for analysis. Receive quick feedback and possible advice to enhance your password protection and stay informed about potential data breaches. Prioritizing such Cyber Security Tips can safeguard your online presence.
5. Change passwords – but right!
Do you have to change your passwords at regular intervals?
This only makes sense if you invent completely new and do not reuse old or only change it easily. Otherwise, password-crack systems quickly guess the new passwords.
However, your password should change in two cases:
If a malfunction has infected your PC or your IT system. Because these programs can record and send access data. These often circulate on the Internet. Of course, you should remove the damaged program as soon as possible.
If you are asked by a service provider or if you receive information from serious intelligence services about certain attackers, spam, or phishing emails.
6. Hold password discipline
Enhance your online security with these Cyber Security Tips. Utilize a password manager like KeePass to store and generate strong passwords for various accounts. Accessible on both desktops and smartphones, a password manager organizes your credentials, and you can protect it with a master password or key on a data carrier to ensure your data remains exclusively in your hands. Stay ahead in safeguarding your sensitive information with these convenient tools.
It is a little less sure to remember "master passwords" that you attach an abbreviation for each account. For example, if H7TZ! 67TGH#AS3 is your master password, put FB for Facebook, Go for Google, etc., and receive FBH7TZ! 67TGH#AS3, GOH7TZ! 67TGH#AS3 etc. Of course, a resourceful hacker that one of the passwords knows derives a pattern from it. So if you use this variant, be sure to use different master passwords for private and official.
Tip
Do not save passwords in plain text in the browser or on the PC, because this will violate Art. 32 of the GDPR. This can be extremely expensive – in one case, an entrepreneur had to pay 20,000 euros for this violation.

You should also not write down passwords in the doctor's office on notes and hang them up. Read more about data protection here.
7. Activate the two-factor authentication
If it is supported by the respective program or the respective website, you should activate a so-called two-factor authentication. As with online banking, a one-off code is also queried in addition to the password when logging in login, which you will receive on a smartphone or SMS via an app. That makes a little more effort with login but makes work a lot more difficult.
This measure is part of the Zero-Trust concept recommended by experts: don't believe anyone, always let everyone confirm their identity-everyone could specify that they are someone who is not.
8. E-mails: Check senders, formulations, and plausibility
Most burglaries in computer systems take place in 2022 through ransomware attacks. "Ransom" means "ransom". Those affected therefore receive emails in which they should be intimidated and blackmailed to transfer money to an unknown account. The sender claims to have information about you and your private interests or explosive files from you and makes them open to the public if you do not meet the payment request.
Phishing attacks are also very common: attackers send more or less targeted and differently sophisticated emails that contain malignant files or links. The latter should lure to websites that elicit personal information or try to install malware. We described these and similar stitches in more detail in another post.
Such e-mails aim to emotionalize them and put them under pressure: they should act quickly and not think much. So resist any urge to react quickly.
Think about each click: Who sends me that? And why? Does this email come from the sender who supposedly sent the email? If in doubt, you can ask on another channel (for example on the phone) whether the supposed sender sent this email.
In addition, you should check the URLs carefully from the left: is there, for example, a trick with special characters, and does this domain belong to the company that writes?
Beware of phishing tricks! Cybercriminals are becoming more adept at creating skillful counterfeits of emails from trusted senders like Google, Amazon, DHL, or banks. They may even make it seem like the email is from your account. Remember, trusting blindly is risky. Stay cautious and vigilant to protect yourself from falling victim to these malicious schemes.
9. Encrypt data and make backup copies
The more important and more sensitive your data, the sooner you should encrypt it, especially if you send it. Of course, this applies particularly to personal patient data.
Every practice should regularly secure your data on external data carriers every day. Such a backup is worth gold if z. B. important data is encrypted after a cyber attack or your IT system must be set up again.
You should encrypt the backup for additional backup. Because if a data carrier is lost, commits a reportable violation of data protection. In this blog post, we report on a case in which exactly that happened.
It is also advisable to create system recovery points and also regularly secure your IT system. This usually only takes a few clicks and a few hours and your system creates a backup copy in the background.
Conclusion on Cyber Security Tips
Safeguard your business's data with these essential Cyber Security Tips. In today's digital landscape, cybersecurity is paramount for any successful operation. Following these basic tips and best practices ensures your company's data remains secure and protected at all times. Prioritize cybersecurity to safeguard your business's valuable information from potential threats.
Businesses should make sure all of their devices are up-to-date with the most recent security patches as well as run regular scans for malware and viruses. A strong firewall should also be utilized to block outside connections from accessing sensitive information within the network. Additionally, companies should have a robust password policy in place so that all users must use complex passwords that include uppercase letters, symbols, and numbers when accessing the system.