Augmented reality (AR) has emerged as a transformative technology, revolutionizing various industries and unlocking new possibilities for immersive experiences. In the realms of entertainment and gaming, AR has taken center stage, enabling users to blur the lines between the virtual and physical worlds.
Discover the transformative power of AR in gaming and entertainment, reshaping interactions, captivating audiences, and creating immersive experiences.
Augmented Reality: Bridging the Gap between Real and Virtual Worlds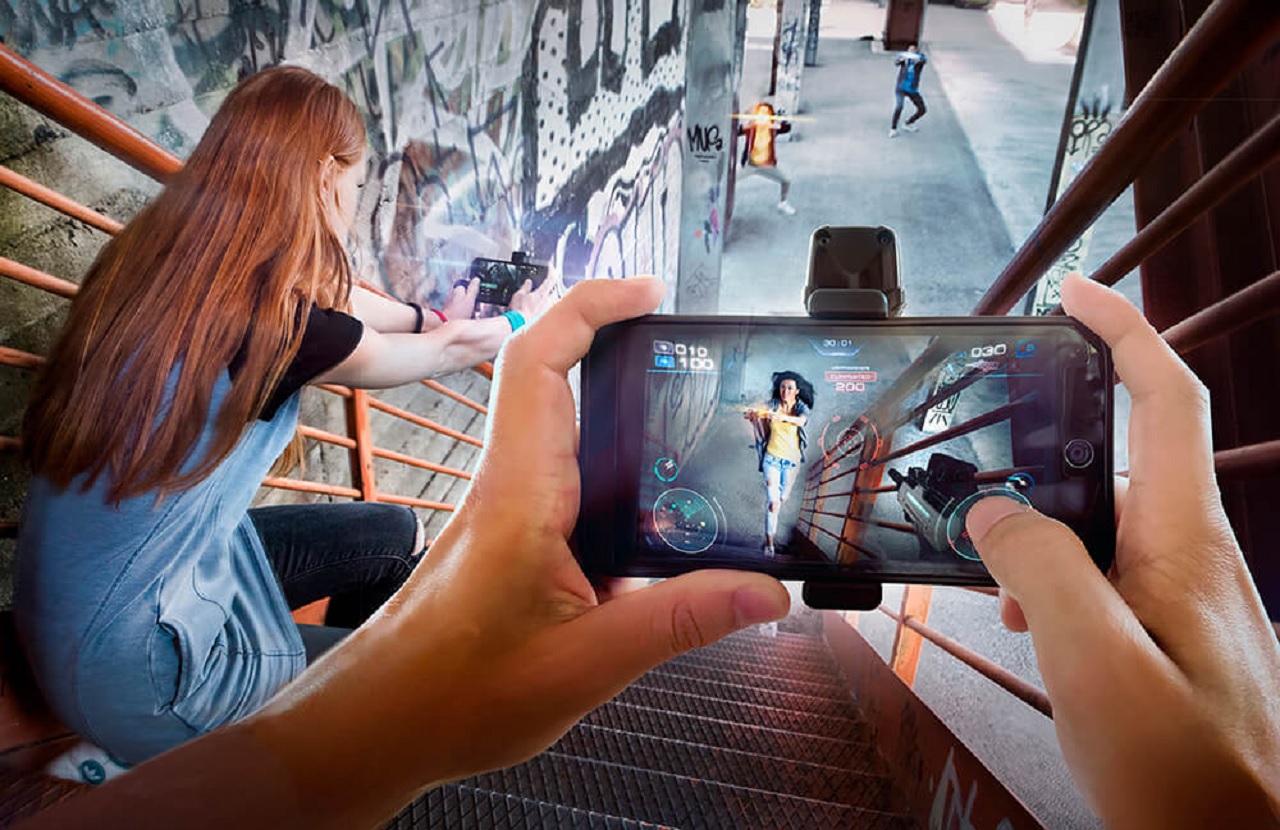 Augmented reality is a technology that overlays digital content onto the real world, enhancing the user's perception and interaction with their environment. It typically involves the use of devices such as smartphones, tablets, smart glasses, or headsets that integrate computer-generated graphics, audio, and other sensory inputs into the real-world environment.
By seamlessly blending virtual elements with the physical world, AR enhances the user's perception of reality and creates immersive experiences.
It is important to distinguish augmented reality from virtual reality (VR). While VR completely immerses the user in a simulated environment, AR enhances the real-world environment by adding virtual elements. This key distinction allows AR to provide a unique and compelling experience that merges the best of both worlds.
Transforming Entertainment Experiences with AR
Welcome to a new era of entertainment where reality and imagination merge seamlessly, thanks to the power of Augmented Reality (AR). Prepare to have your perception of entertainment transformed as AR takes center stage. Gone are the days of passive consumption; now, you can actively engage and immerse yourself in virtual worlds that come to life right before your eyes.
Get ready to witness the convergence of technology and entertainment, as AR unlocks endless possibilities for interactive storytelling, mind-bending visuals, and unforgettable experiences.
Step into a realm where the boundaries between the real and virtual blur, and prepare to be amazed as AR revolutionizes the way we perceive and engage with entertainment.
a. Augmented Reality in Live Events and Performances:
Augmented reality has significantly enhanced live events and performances, offering audiences immersive and interactive experiences. In sports, AR is used to overlay real-time data, player statistics, and virtual replays onto live broadcasts, enriching the viewing experience and providing insightful analysis.
Similarly, AR has enabled immersive concerts and stage shows, where virtual elements such as holograms, animations, and interactive effects are integrated into live performances, creating captivating and memorable experiences.
b. Augmented Reality in Movie and Television Experiences:
AR has also made its mark in the movie and television industry. Movie studios and broadcasters have utilized AR to enhance promotional campaigns through interactive movie posters, billboards, and advertisements.
By scanning these AR-enabled visuals using smartphones or dedicated apps, users can unlock exclusive content, watch trailers, or participate in interactive experiences. Additionally,
AR technology is being employed to enrich home viewing experiences by overlaying supplementary information, behind-the-scenes footage, or interactive elements onto the screen during the movie or TV show.
The Power of AR in Gaming
In the vast realm of gaming, a new force has emerged, harnessing the power of Augmented Reality (AR) to revolutionize the way we play and experience games. With AR, the boundaries between the real world and the virtual gaming universe dissolve, paving the way for a truly immersive and interactive adventure.
Strap on your headset or grab your smartphone, because AR in gaming is here to transport you to unimaginable realms where fantasy and reality coexist. Prepare to unleash your inner hero, strategize in real-world environments, and embark on quests that seamlessly blend the digital and physical worlds.
Brace yourself for a gaming experience like no other, as the power of AR propels us into a future where our wildest gaming dreams become a captivating reality.
a. AR in Gaming: Blending Real-world Environments with Virtual Elements:
One of the most significant impacts of AR can be seen in the gaming industry. AR in gaming brings virtual elements into the real world, allowing players to interact with digital content in their physical surroundings.
Games like "Pokémon GO" revolutionized the gaming landscape by blending GPS data, real-world locations, and augmented reality to create a compelling and social gaming experience. Players can explore their neighborhoods, capture virtual creatures, and engage in battles, all within the context of their real-world environment.
b. Location-based AR in Games:
Location-based augmented reality games leverage the GPS capabilities of smartphones to create dynamic and immersive gameplay experiences. In addition to "Pokémon GO," another notable example is "Ingress," a game that laid the foundation for the AR in gaming revolution.
These games encourage players to explore their surroundings, discover virtual points of interest, collaborate with other players, and engage in competitive or cooperative gameplay. By blending real-world exploration with virtual elements, AR in gaming encourages physical activity, social interaction, and discovery.
c. AR in Gaming Accessories and Peripherals:
AR in gaming is not limited to smartphones. The development of dedicated AR headsets and smart glasses, such as Microsoft HoloLens and Magic Leap, has opened up new possibilities for immersive gaming experiences.
These devices provide a hands-free and more immersive AR experience, allowing users to interact with virtual objects and characters in their physical environment. Additionally, motion controllers and haptic feedback devices further enhance gameplay by providing more precise and immersive interactions.
Enhancing Social Interaction and Multiplayer Experiences
In today's interconnected world, technology has become a catalyst for enhancing social interaction and transforming multiplayer experiences. Whether you're sitting in the same room or oceans apart, the power of online connectivity has brought people together like never before.
With the advent of online gaming and social platforms, players can now join forces, compete, and cooperate with friends and strangers from around the globe. Engaging in multiplayer games transcends geographic boundaries, fostering a sense of camaraderie and shared experiences that enrich our social lives.
Get ready to forge new friendships, collaborate with allies, and embark on unforgettable adventures as technology propels us into a world where social interaction and multiplayer gaming become indistinguishable.
a. AR-enabled Social Media Platforms:
Social media platforms like Snapchat and Instagram have integrated augmented reality features into their applications. AR filters and effects enable users to overlay virtual masks, animations, and visual enhancements onto their selfies and videos, fostering creativity and self-expression.
These AR features have become immensely popular, encouraging social interaction and engagement among users.
b. Multiplayer AR in Gaming:
AR technology has also transformed multiplayer gaming experiences. Collaborative gameplay in shared AR environments allows players to interact with each other and the virtual world simultaneously.
Players can work together to solve puzzles, defeat enemies, or achieve common goals, enhancing social interaction and teamwork. eSports and competitive AR in gaming tournaments have also gained popularity, bringing together players from around the world to compete in augmented reality games.
Augmented Reality and Storytelling
Step into a realm where imagination merges with reality, and stories come to life before your very eyes. Augmented Reality (AR) has introduced a groundbreaking chapter in the art of storytelling, transcending traditional mediums and immersing audiences in captivating narratives like never before.
By seamlessly overlaying digital elements onto the physical world, AR unlocks a new dimension of storytelling possibilities. From interactive characters that interact with your surroundings to hidden layers of information that deepen the narrative, AR takes us on an extraordinary journey where the boundaries of fiction and reality blur.
Brace yourself for an unparalleled fusion of technology and storytelling, as AR transports us to realms where imagination knows no limits.
a. Interactive Narratives and Immersive Storytelling in AR:
Augmented reality has opened up new avenues for interactive narratives and immersive storytelling. By overlaying digital content onto the real world, AR can enhance storytelling by providing additional layers of information, contextual details, and interactive elements.
Users can actively engage with the story, make choices, and influence the outcome, blurring the line between the audience and the narrative.
b. AR-based Escape Rooms and Interactive Theater Experiences:
Escape rooms and interactive theater experiences have embraced augmented reality to create unique and immersive adventures.
By integrating AR technology into these experiences, participants can interact with virtual objects, solve puzzles, and uncover clues in the physical environment, adding an extra layer of immersion and excitement.
c. Transmedia Storytelling and AR Tie-ins:
AR technology has also been utilized to extend storytelling beyond a single medium. Movies, TV shows, and books have incorporated AR tie-ins to deepen audience engagement.
By scanning special markers or objects with dedicated AR apps, users can unlock additional content, access behind-the-scenes footage, or delve deeper into the story's universe, blurring the boundaries between different forms of media.
Challenges and Future Outlook
As Augmented Reality (AR) continues to push the boundaries of technology and reshape various industries, it faces its fair share of challenges and holds immense potential for the future. One of the key challenges is achieving widespread adoption and acceptance among users, as AR experiences often require specialized hardware or mobile devices.
Additionally, creating compelling and seamless AR experiences that seamlessly integrate with the real world remains a technical hurdle. However, with advancements in hardware capabilities, improved user interfaces, and increased developer expertise, the future outlook for AR is incredibly promising.
As technology continues to evolve, we can anticipate more accessible, immersive, and refined AR experiences that will revolutionize various aspects of our lives, from entertainment and education to healthcare and beyond.
The future holds a world where the lines between the physical and digital realms blur, opening up a new era of possibilities powered by the transformative potential of Augmented Reality.
Read Also: The Air Force Will Use Augmented Reality For Fighter Pilot Training
a. Technological Limitations and Hardware Requirements:
AR technology still faces challenges related to hardware limitations, such as the need for more advanced and affordable devices with improved processing power, battery life, and display quality. Overcoming these challenges will be crucial to achieving widespread adoption and seamless user experiences.
b. User Adoption and Market Penetration:
While AR has gained significant traction, there is still room for increasing user adoption and market penetration. Educating users about the potential and benefits of AR, creating compelling content, and ensuring ease of use will be key factors in driving widespread adoption and mainstream success.
c. Future Developments and Trends in AR in Gaming and Entertainment:
The future of AR in gaming and entertainment looks promising. Advancements in AR technology, including lighter and more powerful devices, improved spatial mapping, and enhanced graphics, will pave the way for more immersive experiences.
Additionally, the integration of artificial intelligence, machine learning, and 5G connectivity will further augment the capabilities of AR, enabling more seamless interactions and real-time multiplayer experiences.
Conclusion:
Augmented reality has unleashed a new era of entertainment and gaming, propelling us into a realm where digital content seamlessly integrates with the real world. From live events and movies to gaming experiences and social interactions, AR has redefined the boundaries of what is possible.
By blending virtual elements with physical surroundings, augmented reality offers immersive and engaging experiences, captivating audiences like never before. While challenges remain, the future looks promising as AR continues to evolve, bridging the gap between imagination and reality, and transforming the way we entertain, play, and connect with each other.
With ongoing advancements and increasing adoption, augmented reality is set to revolutionize the entertainment and gaming industry, making the impossible a reality.